Adam Cadell is een avontuurlijke Australische violist (denk John Cale, Tony Conrad en Henry Flynt), vaak op solo-pad, maar ook vaak te vinden in gezelschap (o.m. met Pagans, en verkenningen in popland met The Scrapes)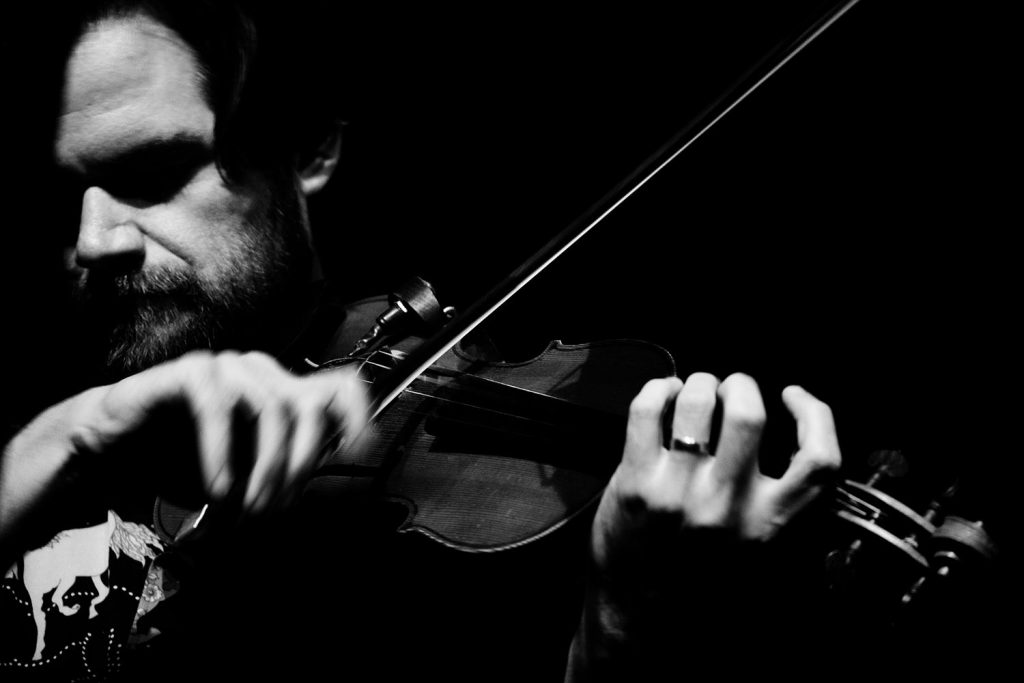 De Brisbanenaar is ook leraar en researcher. Zijn blog genaamd Underground Violin startte als een platform om werk voor z'n PhD te verzamelen, maar is sindsdien blijven bestaan 'as a venture to uncover and promote progressive, subversive and meaningful music'.
Ergens tussen Helsinki, Antwerpen (waar we hem mochten ontmoeten op het Summer Bummer festival), Bayonne en Okaya stelde Adam een mixtape voor Sterrenplaten samen uit nog een andere hoek van de wereld: op een marktje in Saint-Louis, een stad in het Noorden van Senegal, kocht hij ooit een schijfje mp3's met Mbalax, sufi gezangen en ander lekkers. we laten Adam zelf aan het woord:
"I'll just let the music talk for itself. A collection of pieces collected in the market place at Ndar (Saint Louis), Senegal in 2015 during my 3 month residency there as a resident artist at Waaw Senegal. The tunes collected are a cross-section of music but a lot of it is of a folkloric quality because that's what I asked for. Other stuff is perhaps less known Mbalax outside of Senegal, but stuff that is very popular/was very popular at the time. A lot of the tracks are mislabelled or not labelled at all but the mix includes sufi chants from mourides brothers, tracks by fairly big Mbalax guys like Thione Seck and Simon Sene, as well as tracks by Jaliba Kuyate, Star Band de Dakar, Pape & Cheikh, Waly Seck, Omar Pene, and finished off with a nice bit of Peuhl folklore pop featuring the whole reason I went there as a resident in the first place, the riti fiddle, taught to me by one Ali Ka, who my be a relative of the artist here, Jerel Ka. Enjoy. "
Een mooie manier om de nazomer op Scorpio in te zetten lijkt ons, het resultaat hoor je deze vrijdag tussen 21u en 22u30 via Radio Scorpio. De uitzending van net voor de zomerpauze – het beste van dit voorjaar – kan je via onderstaande link herbeluisteren.
www.mixcloud.com/sterrenplaten
www.facebook.com/Sterrenplaten
www.twitter.com/Sterrenplaten